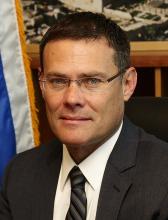 Consul General of Israel in Los Angeles
Bio:
David Siegel assumed the post of Consul General of Israel in Los Angeles in August 2011, where he serves as the senior representative of the State of Israel to the Southwestern United States.
Most recently, Mr. Siegel served as Chief of Staff to Israel's Deputy Minister of Foreign Affairs. In this role, he was involved in policy formulation and decision-making at the senior levels of Israel's foreign policy establishment.
Previously, Mr. Siegel served two terms at the Embassy of Israel in Washington D.C., in successive roles as Chief of Staff to three of Israel's Ambassadors to the United States, Counselor for Congressional Affairs, and Spokesperson. In these capacities, which spanned nearly a decade and two U.S. Administrations, Mr. Siegel was deeply involved in policy coordination with the State Department, the National Security Council and the White House. He was Israel's voice to the Washington press corps and liaison to the U.S. Congress, where he was responsible for security cooperation, missile defense and homeland security. During these years, Mr. Siegel participated in the 1998 Wye River Peace Summit, the 1999 Israel-Syria negotiations, and the Camp David Middle East Peace Summit in the Fall of 2000.
Consul General Siegel has also served in senior posts at Israel's Ministry of Foreign Affairs in Jerusalem, including Director of the International Organizations Department and Political Counselor in the North American Division. He began his diplomatic career as Deputy Chief of Mission at Israel's Embassy in Eritrea, in the Horn of Africa, and subsequently became Charge' d'Affaires.
Mr. Siegel graduated Magna cum Laude from the University of Vermont with a B.A. in political science and earned a Masters Degree in International Relations from the Fletcher School of Law and Diplomacy in Boston. He served as a Commander in the Israel Defense Forces.
Consul General Siegel is married to Myra Clark-Siegel, and they have three young children.